Witnessing Gasing Game in Anambas Regency, Riau Islands - Indonesia
---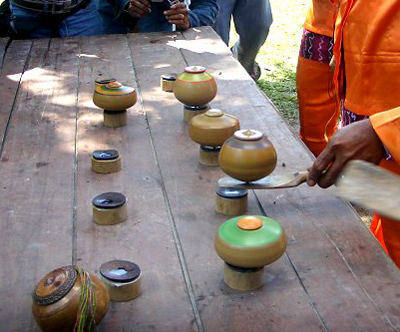 It is true that Anambas Archipelago is not all about natural attractions. The reason is tourists can find other interesting charms of the region including locals' traditional game called Gasing (Top). In a nutshell, the players would compete using a spinning wood and try to get rid of Gasing owned by their rival. This game is, in fact, almost extinct back then. However, people who live in Anambas try to bring back its popularity and conduct the game often these days. As for tourists, they can witness the game directly in some parts of Anambas, especially in Batu Tambun Village, Siantan Island.
About Gasing Game
Due to the popularity of Gasing game in Anambas Regency, some locals even open a craft center and produce tops regularly. Despite the modest facility, they are able to create unique and sturdy products! The crafters are mostly adults, but some kids have been trained to create it as well. It is so interesting for tourists to watch the production on the site. Even they are allowed to purchase tops and take pictures of the creation process when visiting the site. Later, they have the opportunity to watch the game done by local kids in nearby villages.
Enjoying Gasing Game
Recently, the locals become more enthusiastic to play Gasing game. It is a good thing for tourists, so they can easily find the right moment to watch the game done by villagers. Moreover, they have an opportunity to join the match and learn how to play it. Have no worries. It doesn't require special techniques at all. It is just the same as a regular top game. Even the locals would teach tourists patiently and well!
Aside from watching and joining the game, tourists should visit local workshops and watch the creation of those unique tops. It doesn't cost any money, as visitors are allowed to watch and take pictures of such production freely. Still, it takes good gesture and communication when approaching the owner of the workshop and the makers. Such skills even help them to get the chance to training. That means they can learn how to make a top taught by the artists. What a great experience!
Before going home, tourists should not forget to buy one or more tops as a souvenir. It is a rare opportunity and getting an original Gasing of Anambas Regency becomes a special moment for them. During the visit to the workshop, they even get knowledge and skills regarding tops. For example, the owner would tell them the winning key to play Gasing, which is the power of the arm. This ensures the top lasts longer than the opponent.
Other Cultural Attractions
Cecah Inai Dance
Cual Fabric
Gubang Dance
How to Get There
For those coming from Letung City or Jemaja Island, they need to head to Perintis Port first. The purpose is none other than to get a good boat to reach Siantan Island. The destination is Tarempa Port and the distance is about 124 km. In common, it takes around 7 hours and 30 minutes to reach Siantan. Once arriving at the port, their last destination is Batu Tumbun Village.
Where to Stay
Sakura Hotel
Anambas Resort
Konyok Inn
Terempak Beach Hotel

Latest News
In the are of Tanjung Uma, many houses were built on stilts with wooden poles. Because the position of this village is on two headlands, namely Tanjung Lepu and Tanjung Kubur, the local people named the village as Tanjung Uma. Another opinion states that the word uma comes from the English phrase from the word home. What was spoken by the people first was (h)ome, then it became ume and then changed to Tanjung Ume or Tanjung Uma. For seafood lovers, the variety of fish sold at Tanjung Uma is…
---
Riau Islands Tourism Your visit to Lingga Regency seem no complete without traveling to island of Mepar. Located precisely in front of the Tanjung Buton Port, the island is not only beautiful but also rich in history. Its friendly peoples and strongly maintained its tradition is the additional bonus that you would find if you visit there. Do not forget, taste their typical culinary and also carry a variety of native crafts as a souvenir. Administratively, Mepar island is part of the Lingga District, which has approximately, 5000 m2 wide,…
---
Tanjung Uban Tanjung Uban is a town districts in Bintan, Riau Islands Province. The city is also included in Bintan Island which has a sea port for expedition ships and pioneer passenger ships belonging to PT. Pelni. Kota Tanjung Uban is also the access to Batam Island and Singapore. In Tanjung Uban lies an BIIE industrial area in Lobam and BRC tourist areas in Lagoi. Before 1963, the community of Tanjung Uban use Singapore dollars in transactions, as well as residents of other Riau Islands. Rupiah Riau Islands (KR) becomes…
---
Lagoi beach is located in North Bintan sub-district, Bintan, Riau Islands province. This beach is majestically beautiful and have the same value as other beaches in Bali or Lombok. By the beauty inside the beach, there are foreigners coming along to enjoy the beach, especially for those who come from Singapore. It only takes 45 Km between Lagoi beach and Singapore, and that makes the Singaporean come to the beach often. Lagoi beach offers the magnificent nature beauty. Coconut trees, white sandy beach, the rolling waves and every detail nuance…
---