Traditional Cual Fabric of Anambas Regency, Riau Islands - Indonesia
---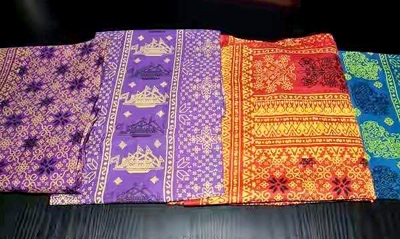 During a visit to Anambas Regency, tourists should not forget to buy the famous local fabric called Cual. Well, it has become one of the allures of the region after all. This beautiful fabric also becomes a signature souvenir among visitors. Not to mention it owns both aesthetic and unique value. Thus, tourists would regret if they do not get one when spending holidays in Anambas! Have no worries. The fabric comes with many options for colors and complexions, so buyers can pick one based on their presence. On top of that, the price is quite affordable.
About Cual Fabric
In terms of name, Cual derives from "Belacu Dijual" and it has a relation to other traditional fabrics including Palembang's Samba and Songket. As mentioned before, Cual Fabric comes in various colors and designs. Still, there are favorite colors, which are orange, purple, blue, and pink. That means bright and eye-catching colors are more popular among buyers as compared to the dark-toned ones. In terms of texture, it is indeed soft which feels so comfortable on the skin. It is without a doubt, women would love to buy and wear them!
More Facts Regarding Cual Fabric
Before getting around Anambas and buy Cual Fabric, it is better to learn the history of such valuable souvenir. According to the locals, the one who taught how to weave Cual was Halimah. It was in 1863 when she first introduced such technique to Teluk Encau Village of East Siantan Sub-District. She decided to stay in Anambas due to the shipwreck when heading to West Kalimantan, actually. Instead of being sad, she taught local girls and women to weave such beautiful fabric.
The most impressive features of Cual Fabric are its beautiful design and soft texture. Not to mention it comes with an excellent complexion! In terms of utility, the locals often wear the fabric as personal attire. Still, it suits any special occasions like weddings as well. As for tourists, they can either to learn how to weave the fabric or simply buy it from local sellers. They would be lucky if the villagers are willing to teach them the technique freely. In this case, a good communication skill is indeed helpful.
One of the reasons why Cual Fabric is quite valuable is definitely its materials. The fabric consists of cotton, golden yarn, and "belacu yarn". The locals get these from Sambas, actually. That means tourists are not likely to find fake cual fabric there. On the other hand, they should not easily trust sellers who offer the fabric outside Anambas.
Other Cultural Attractions
Gasing Game
Cecah Inai Dance
Gubang Dance
How to Get There
For those coming from Letung City, they must take a boat on Perintis Port and head to Siantan Island. The destination is Tarempa Port and the distance is 124 km. That means the voyage may take about 7-8 hours to get to Siantan. Next, tourists only need to visit nearby villages or local souvenir stores to get the fabric.
Where to Stay
Sakura Hotel
Anambas Resort
Konyok Inn
Terempak Beach Hotel

Latest News
In the are of Tanjung Uma, many houses were built on stilts with wooden poles. Because the position of this village is on two headlands, namely Tanjung Lepu and Tanjung Kubur, the local people named the village as Tanjung Uma. Another opinion states that the word uma comes from the English phrase from the word home. What was spoken by the people first was (h)ome, then it became ume and then changed to Tanjung Ume or Tanjung Uma. For seafood lovers, the variety of fish sold at Tanjung Uma is…
---
Riau Islands Tourism Your visit to Lingga Regency seem no complete without traveling to island of Mepar. Located precisely in front of the Tanjung Buton Port, the island is not only beautiful but also rich in history. Its friendly peoples and strongly maintained its tradition is the additional bonus that you would find if you visit there. Do not forget, taste their typical culinary and also carry a variety of native crafts as a souvenir. Administratively, Mepar island is part of the Lingga District, which has approximately, 5000 m2 wide,…
---
Tanjung Uban Tanjung Uban is a town districts in Bintan, Riau Islands Province. The city is also included in Bintan Island which has a sea port for expedition ships and pioneer passenger ships belonging to PT. Pelni. Kota Tanjung Uban is also the access to Batam Island and Singapore. In Tanjung Uban lies an BIIE industrial area in Lobam and BRC tourist areas in Lagoi. Before 1963, the community of Tanjung Uban use Singapore dollars in transactions, as well as residents of other Riau Islands. Rupiah Riau Islands (KR) becomes…
---
Lagoi beach is located in North Bintan sub-district, Bintan, Riau Islands province. This beach is majestically beautiful and have the same value as other beaches in Bali or Lombok. By the beauty inside the beach, there are foreigners coming along to enjoy the beach, especially for those who come from Singapore. It only takes 45 Km between Lagoi beach and Singapore, and that makes the Singaporean come to the beach often. Lagoi beach offers the magnificent nature beauty. Coconut trees, white sandy beach, the rolling waves and every detail nuance…
---